Gear Review: Grab‐It Pack Ultra
May 15, 2016
You know what really sucks about using a manual wheelchair? Pockets, that's what. Or the lack thereof. When seated it's virtually impossible to get anything in or out of your pant's pockets without sliding halfway out of your chair and flopping around like an idiot. It can get even more awkward if you happen to be on an incline.
This is where something like the Grab‐It Pack Ultra comes in handy. It may seem a little dorky at first (and for the love of god, don't wear two at the same time), but you'll soon find that the versatility of the device far outweighs its perceived nerd‐factor.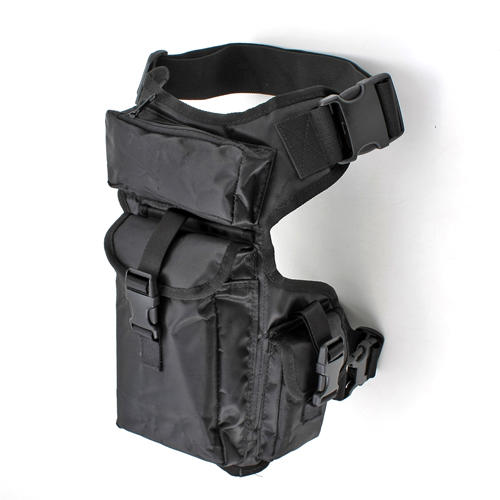 Features
The Grab‐It Pack Ultra comes with a cellphone pocket, wallet pocket, and key pocket.
Dimensions:
Cellphone Pocket:

Approximately 5 inches wide by 4 inches long and 1 inch tall with a hook‐and‐loop fastener.

Wallet Pocket:

Approximately 9 inches wide by 5 inches long and 1 inch tall with a hook‐and‐loop fastener and buckle.

Key Pocket:

Approximately 6.5 inches wide by 3 inches long and 1 inch tall with a zipper.

Waist Strap Length:

Fits up to a 43 inch waist
Cellphone Pocket
The cellphone pocket comes with both a Velcro and buckle fastener and should fit your average sized cellphone as tall as an iPhone 5S. If you're looking for a place to keep your larger, phablet‐ sized cellphone like a Galaxy S4, you'll need to put it in the main wallet pocket.
Wallet Pocket
The main wallet pocket is large enough to function as a general drop bag, allowing you to quickly store and retrieve a number of oddly‐sized items quickly and easily like gloves or headphones. It's also the most secure pocket, with a zipper, hook‐and‐loop flap, and buckle fastener.
Key Pocket
The key pocket is oddly shaped for its intended purpose. When I first saw it, I thought it was for holding a pocket knife or multi‐tool, not keys. It's large enough to hold an hex wrench set and a standard multi‐tool with room enough for my house keys.
Construction / Quality
The Grab‐It Pack Ultra is made from Twill Polyester, a major upgrade over the standard version of the pack made of 300D Polyester + 210D Nylon lining which is less tear resistant. This greatly improves the overall lifespan of the pack as well as the amount of punishment it can take. WhenI first purchased the Grab‐It Pack, I went with the standard version and found that the nylon quickly frayed and fell apart after only a few weeks of use. The Ultra version is much more robust.
However, despite the upgraded fabric, I've found that the stitching connecting the leg straps to the pack as well as the border stitchingaround the cellphone pocket flap weakens over time and has a tendency to break and fray.
Chair Use
For most users, the Grab‐It Pack is meant to hang off your hip as you walk around, leaving your cellphone oriented towards the front of your leg. In a wheelchair, this orientation shifts so the wallet pocket is resting over your thigh and your cellphone leans towards the inside of your knee. Despite this shift, you still have easy access to all the pockets on the pack including the key pocket.
I use mine every day and find that it can comfortably hold a travel‐sized bottle of hand sanitizer, full‐size multi‐tool, house keys, and a tactical flashlight in the top "key pocket" while comfortably fitting my gloves and a Kindle or iPad Mini in the larger wallet pocket. Also, the main belt is wide enough to loop a dog leash through so you can easily maintain control of your pet or service animal while keeping your hands free to operate your chair.
Problems
Even though the Grab‐It Pack is easily adaptable to wheelchair use, I've found that it does present a few challenges.
Strap Adjustment
In addition to being fairly complex to adjust, the straps on the Grab‐It pack take a fair amount of dexterity to loosen and tighten and have a tendency to loosen over time.
Carrying Large Items While Wearing it
it makes it difficult to carry large items on your lap due to the way the pack creates an uneven surface across your legs. I've found that carrying packages, or longer items is tough due to the way the Grab‐It Pack causes the items to shift as I move around. This may be something you want to consider if you find yourself carrying large items throughout the day.
Accessing Pockets
The buckle clasps on the wallet and cellphone pockets can be a little stiff. For me, this doesn't present an issue, but if you don't have a lot of dexterity or finger strength, you may want to think about not using the clasps (they don't get in the way when loose).
Fabric Comfort
Twill polyester, while durable, is not exactly known for how well it breathes. If you wear the Grab‐It Pack for extended periods of time, you're going to find that you have one very sweaty leg at the end of the day. For most folks, this will be a minor inconvenience, but for those that may suffer from sensitive skin you may want to limit the amount of time you wear the pack during the day.
Pocket / Zipper Blocking
For most users, the Grab‐It Pack blocks the left or right pants‐pocket depending on the leg it's attached to. In addition to losing accessing to that pocket, the pack has a tendency to block the button and zipper of your pants, making using the restroom more difficult than usual. To get around this, you'll either need to shift the pack to your hip as you stand (if you can) or remove the pack altogether.
Summary
The Good
Plenty of storage space in main pocket
Replaces hard‐to‐reach pockets with multiple storage options.
Secure pockets with zippers, hook‐and‐loop and buckles.
The Bad
Makes it hard to carry items in your lap
Straps are hard to adjust.
Blocks front of pants, making more difficult to use the restroom.
Final Verdict
Barring a more formal event (fancy dinner, funeral, ship christening), I never leave the house without it. I highly recommend you get one if you bus or walk to work every day and need a place to keep things like sunglasses, house keys, or pepper spray secure and out of the way while still being within easy reach.
Where to Buy
You can purchase the Grab‐It Pack Ultra straight from the company website.